Outsource Bookkeeping and Accounting - Johannesburg North
Thursday, 2 May 2019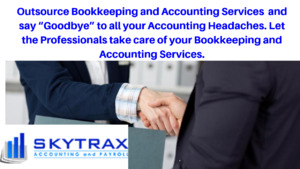 Item details
City:
Johannesburg North, Gauteng
Contacts

Paul

066 234 3768
Item description
At Skytrax and Payroll Services we offer Outsourced Monthly Bookkeeping and Accounting services that are focused on providing accurate and up-to-date accounting records for small to large businesses, ensuring that you avoid unnecessary penalties associated with non-compliance. In today's business environment, it is integral for every business owner to not only keep track of their company's financial standing at all times, but also to understand what it means and how you can leverage this information to improve your business performance. With over 20 years' worth of accounting expertise, our experienced team understands the accounting processes and procedures and even more importantly, we know how to implement it to your advantage, thereby adding real value to your business operations.By utilising our Outsourced Bookkeeping and Accounting Services, you will not only reduce costs and minimise risk, but also alleviate the administrative burden and free up valuable employee resources.
Monthly Bookkeeping and Accounting duties:

Bank and petty cash processing and reconciliation.
General Ledger Journal processing and reconciliation.
Debtor billing (Accounts receivable), processing, reconciliation and age analysis review.
Creditors processing (Accounts payable), reconciliations and age analysis review.
Stock Control processing and review.
Maintaining the fixed asset register and wear and tear register.
We have the expertise and knowledge to deal with Forex accounting issues.
Preparation of budgets and forecast.
Preparation of monthly management accounts, which includes Income statement, Balance sheet, Cash Flow Statement and Ratio analysis.
Complete year end procedures required for the external audit to ensure compliance with International Financial Reporting Standards
Calculation of Input and Output VAT. Review of transactions to ensure compliance to the VAT Act. Reconciliation of monthly and annual VAT. Completion and submission of VAT 201 via E-Filing to SARS.
Trust bank account accounting services provided for Law Firms and Real Estate Agencies to ensure compliance with the various Board requirements.
Apart from keeping you abreast of the precise financial state of your business, our accounting services will keep you compliant with accounting standards and Generally Accepted Accounting Practices for smaller entities (small GAAP).